You can find Pegasus Park Equestrian Centre nestled in the hills of Bangalow, just 15 minutes west of Byron Bay
Pegasus Park Equestrian Centre
Submerge yourself in nature, as you explore Byron Bay's picturesque's Hinterland and Beache's. Relax and enjoy the tranquillity while exploring natural beauties of the Shire with one of our horseback tours. We specialises in horse riding for people of all ages and all levels of ability.Whatever your standard we have a beautiful, educated horse for you.
Established in the Hinterland of Bangalow in 1994. Founded on a love of horses, horse riding, nature and a passion for sharing their enthusiasm. Pegasus Park Equestrian Centre continues to provide quality instruction coupled with beautiful, well cared for and educated horses. So come and visit us at Pegasus Park
At Pegasus Park we have a selection of beautiful horses:
Quarter horses, renown for there quiet nature
Arabian horses
Thoroughbred horses
Stock horses and ponies for the smaller children
If you are a beginner we have you covered!
Safety is a major concern.
If you're feeling nervous or anxious about your ride you can come out to our farm for a private session where you meet your horse. We will give you a safety induction and show you how to bond with horses, then go through mounting position how to stop start and turn and give you a lesson all in the safety of our arena.
For nervous horse lovers or those just looking for an equine experience without the ride you can come to the farm where we have safety induction program.
We  will teach  you how to handle horses, how to approach horses in a safe manner, how to read the horses body language, how to groom and  other  general ground managment when working with horses  .
This is a great way to introduce yourself into the horse world or just catch up with friends.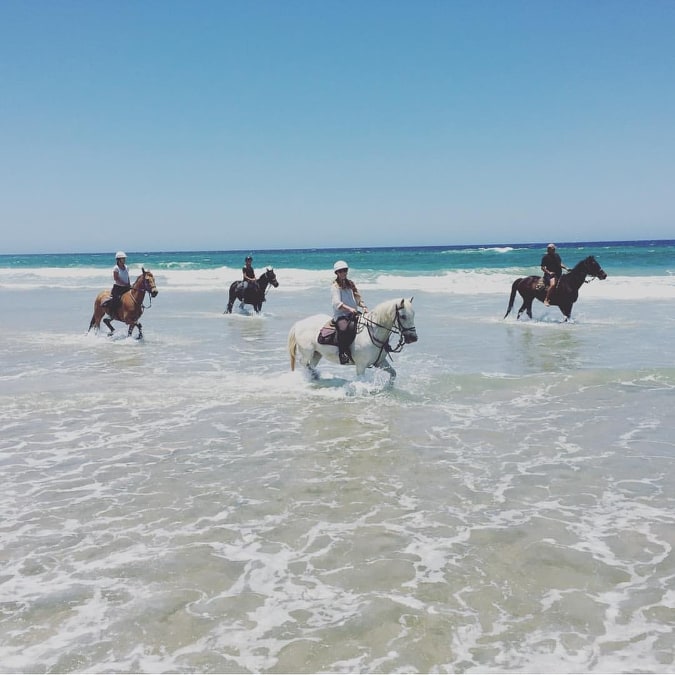 Check out our NEW VIDEO!…
We are really happy with how this new video turned out, check it out and let us know what you think via Facebook or Twitter.
NEW! Small, Medium & Large Room Accommodation options available…
We have added additional accommodation options for you: Small, Medium and Large rooms; all rooms have TV and fridge, jug, tea, coffee and water with shared bathroom. Max 2 people per room or book all 3 for a special price.
Group & Private Rides
Group & private rides are perfect for those looking for a more relaxed horse riding experience whilst taking in the natural beauty of either Byron Bays beautiful hinterland or Lennox Heads open beaches. Riders get the opportunity to learn, sight-see, and experience horse riding all under the supervision of enthusiastic and passionate instructors.
Trail & Hinterland Rides
Take a scenic Trail Ride through Byron's lush hinterland. Enjoy the fresh air, lush foliage and picture perfect views while you ride.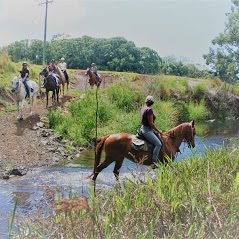 Group & Private Rides
Group and Private rides are the perfect solution for those looking for more dedicated instruction or to move at a faster pace whilst getting the benefits of a ride.
Group & Private Lessons
We offer lessons in horse riding, basic dressage and jumping; all under the supervision of our expert E.F.A. Grade 1 instructors. Lessons have a strong focus on advancing riders technique and imparting new skills. More intensive than rides however the additional attention to detail and teaching make these a definate must for those looking to advance their own technique.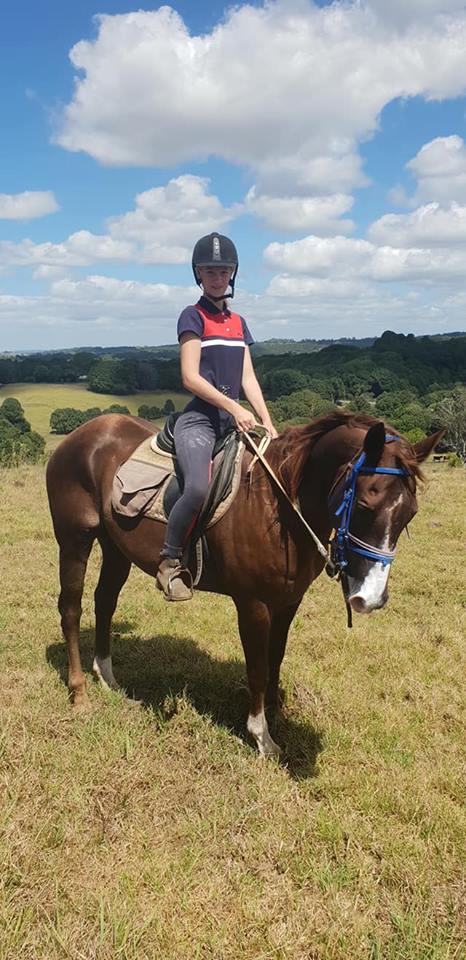 Hinterland Lessons
Located in Bangalow and set amongst the beauty of the Byron Bay Hinterlands we have access to wonderful bush trails Just 1 hr from the Gold Coast, 2 hrs from Brisbane or only 40 minutes from Tweed Heads.
From Byron Bay, you take the Hinterland Way to Bangalow than follow the Lismore Road for approximately 3kms.
You will eventually see a turn off for Friday Hut Road, turn left and Pegasus Park Equestrian Centre is second driveway on right (the one with all of the beautiful horses)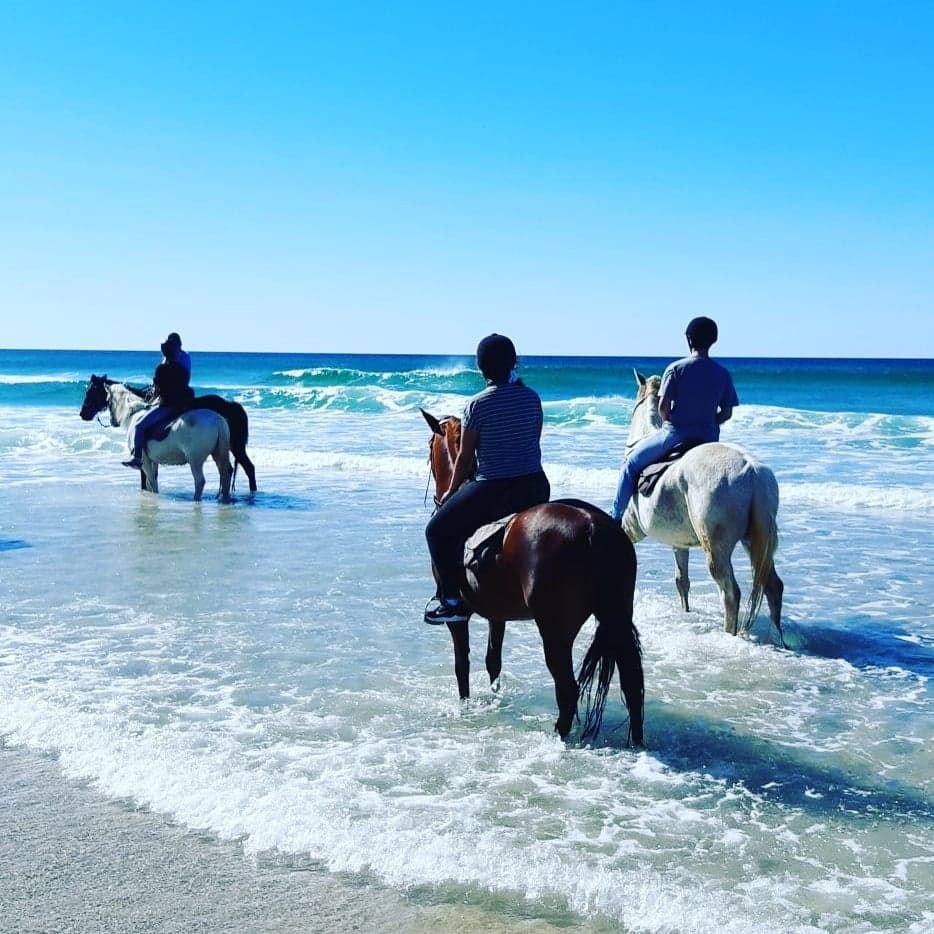 Beach Lessons at 7 Mile Beach
Head to the surfing town of Lennox Head – known to be the 3rd best surfing beach in Australia.
Head towards Lake Ainsworth (Ballina's famous tea tree lake), turn left (opposite Lennox Head Surf Lifesaving Club) into Camp Drewe Rd.
You will than have Lake Ainsworth Caravan Park on your left and Lake Ainsworth on right. Follow Camp Drewe Rd to the very end and you'll find us waiting for you at the Lennox Head horse beach access.
Cabin Accommodation options for you and your horses.
Organise your Byron Hinterland / Bangalow accommodation with us and receive a 10 % discount on any rides or lessons.
Accommodation now available
Pegasus Park has a cabin available for rental; nestled on the Pegasus Park property. Located in the Bangalow hinterlands, the cabin is perfect for those long trips – refresh yourself and spend the night in comfort, before you start the next part of your journey.